Densen are a select group of music lovers who, for the last thirty years, have stretched the limits of audio. We produce a select range of musical products, all of which have been designed to give you lifelong musical enjoyment. But we do not only focus on the musical qualities of our products; in a world more and more obsessed with disposable consumer goods, we pride ourselves on making products of lasting quality and
enjoyment.
Many have commented on the fact that we seem to avoid the usual paths of audio companies. We did not, for example, design a DVD player, though such a product would be highly profitable for us. Instead, we designed the absolutely best sounding FM tuner possible.
Most companies seem obsessed with giving the market what everyone else gives it – we are much more occupied with making products that make a difference to the owner. Products that will result in endless hours of musical enjoyment, and be highly valued by their owners. Having already
reached this goal in the design phase, our dedication to perfection is also carried over to the manufacturing phase. Here we combine state of the art manufacturing techniques with classic workmanship, thus creating a line of products of such high quality that we are not afraid of backing it with a 10 year warranty.
Our obsession with perfection goes all the way, and includes our dealers and distributors, where we have selected the very best. They will give you the best possible help and guidance, but in the rare instances where they cannot help, you are always welcome to contact us directly, by telephone or e-mail, or you
may simply find what you need here on on our website at www.densen.com.
In any case, we hope you will find endless hours of musical enjoyment, while you discover the musical world of Densen.
The Air-guitar factor
Whether it is Madonna, Miles Davis, Mozart or AC/DC; all have put their heart and soul into their music. No matter if the quality of the recording is good or bad. Reproduction of music is supposed to be made with all the energy that has been put into it by the artist. You might think that this comes natural for any Hi-Fi system. However, it does not! Too many systems today are only able to play perfect recorded music. Though it is a fact that only a fraction of today's music is really well recorded. So what do you do when you want to listen to The Beatles?!? On most systems it is better to use your Beatles CD's as Frisbees than actually listening to them! High-End systems today have a tendency to sound very boring and not being able to play ordinary recordings. It is our finest mission to make music sound as engaging as it was intended. The way we see it, a Hi-Fi system is a musical instrument that must be able to play all kinds of music, regardless the quality of the recording. Music must make you want to stand up and play the airguitar or be an "air conductor" and forget all about the Hi-Fi. If you always end up analysing the quality of the recording and not listening to the music then your system might just not be able to play music! We challenge you and your system. Experience the musical difference.
Technologies
Zero Feedbzck Technology

One of the Densen vitues is the commitment to no global feedback in our outputstages. We have given it the very advanced name: "zero feedback technology"

Modularity and upgradability

A Densen is built to last
forever. Therefor it's only natural to keep it expandable - upgrade with
a DAC-board, phono tage or even an external powersupply!

Relay controlled class A preamplifier stages

From the second a the signal enters a Densen pre-amp stage - no matter the pricetag - the signal is handeld with the outmost care using high quality relay controlled circuits.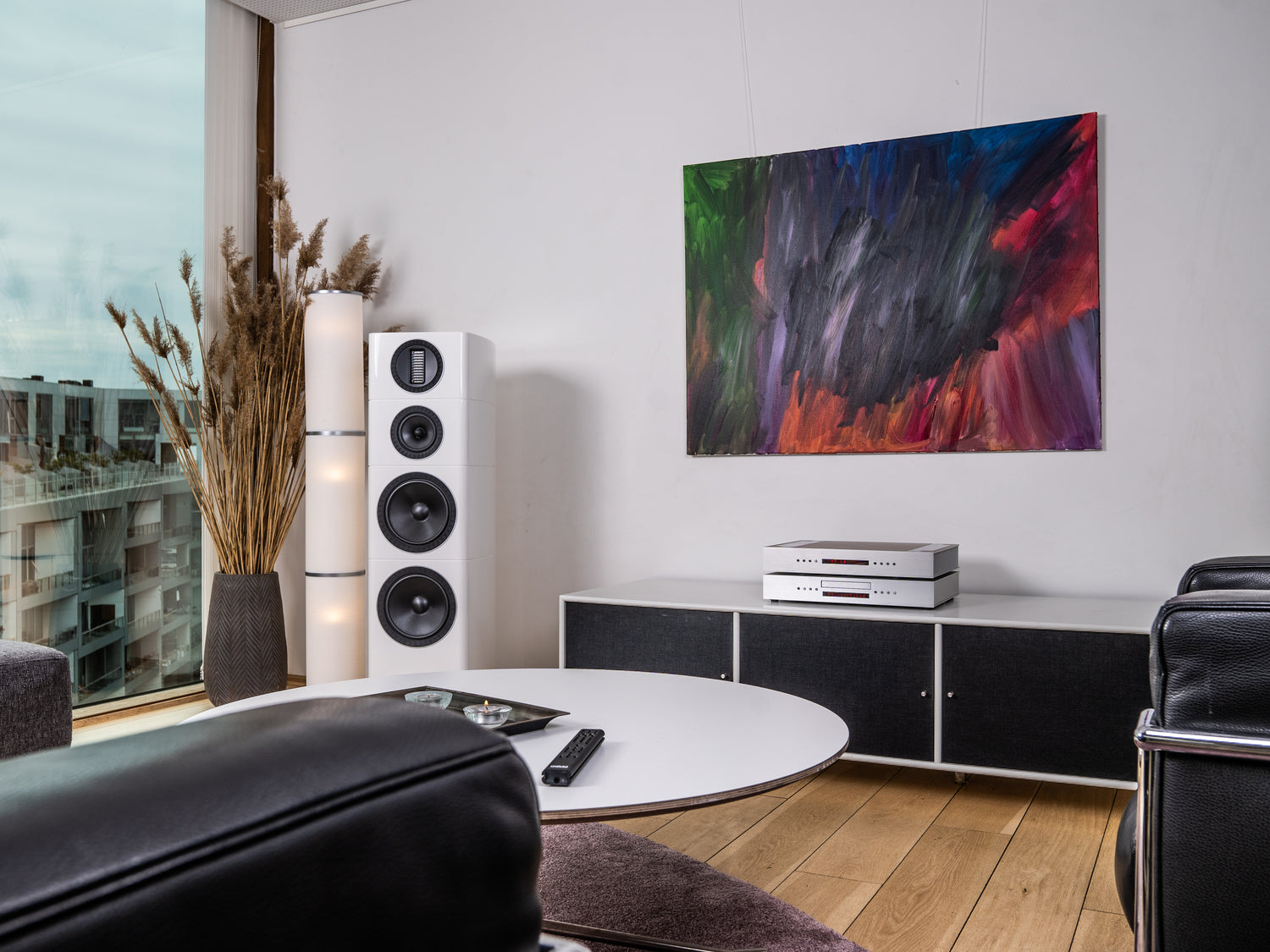 The road to Perfection
In the Densen universe form, function, and build quality works for one another and for the sound. Our design trademark – the compact aluminiumcases – are not only good-looking and easy to incorporate in any interior – they also dissipate heat and reduce magnetic distortion much more effectively than the large steel cases used by many manufacturers.

Every Densen product is designed with a single printed circuit board. This ensures short signal paths and easy upgradeability. All boards are made of teflon, the mounting is mainly done by robots, and the soldering is done in an artificial atmosphere of nitrogen to avoid oxidation.

The parts we use are select and often custom-made to our specifications. We use Vishay metal film resistors, custom-made capacitors, and very "stiff" custom-made toroid transformers that really deliver the goods regardless of load.

Before a product leaves us, we submit it to a very discriminating series of testing, listening sessions and visual inspections. When you unpack your Densen, you'll find a pair of white gloves to wear while handling the unpacking and installation. If you don't wear them, your fingers will be the first to touch the extraordinary aluminium finish.

Our Mission

Our goal is to make hi-fi equipment that will ensure you fantastic musical experiences with your sound system. We will not compromise – all the choices we make when we design a new audio product have only one goal, and that is to give you the best possible sound!


How to evaluate Hi-Fi

Choosing a new audio system is an important issue; after all, it is an investment you will have to live with for many years to come. When people invest in a product like ours, we feel it is important that we respect the customer, and not fall into the traditional marketing "trap", where a new "improved" product is launched each fall, where the warranty is very limited, and where the only way we care about the customer, is getting his money and getting him out of the door again.


Philosophy

Throughout the years I have done a lot of demonstrations for Hi-Fi enthusiasts around the world. During the later years I have also done some lectures at colleges and universities. In those lectures I have demoed a Hi-Fi system. In connection with this, it struck me how far away from ordinary people Hi-Fi enthusiasts really are.